Welcome to the Ray Camacho Site!
Brief Biography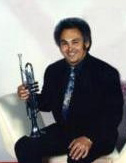 Ray Camacho
Ray was born in El Paso, Texas. He was raised in Mendota, Ca. where he worked in the fields until the age of 17. He graduated from Tranquility High School then moved on to Fresno City College where he supported himself by playing music with his first band, The Teardrops, "I didn't stop until 40 years later." During those 40 years Ray played a number of instruments including drums and saxophone then finished his career playing trumpet. Ray had the privilege of taking trumpet lessons from master teacher, Tony Piccotto in Phoenix, Arizona, Tony had played with the Benny Goodman Band.
Phoenix was one of the bands favorite places to play. They always received a warm welcome and it always seemed like a second home. El Paso was also good to the band. The people of El Paso selected Ray Camacho as Artist of The Year several times.
Ray feels blessed for all the very good musicians that played in the band. Ray always gives a lot of credit to 3 musicians, Manuel Palafox, Mingo Cervantes and Enrique Mendoza, who stayed with the band for 40 years. The other musicians were just as important and Ray will always hold all of them close to his heart. Musicians were recruited from the Southwestern states and from California in order to get the best musicians for the band. These musicians are the reason the band played real music for 40 years. Each player was a master of his instrument and two guys had Master Degrees in music. Ray continues to be a very good businessman and public relations person. He is always refining his craft and his newest project is this internet site. This is his attempt to bring his distinctive music to his old fans and a new generation.
Ray does not drink or smoke and has never used illegal drugs. He has always tried to be a role model for young people and his fans. We want to remind our friends and fans,
It all started at the Rainbow Ballroom - Fresno, California in 1960!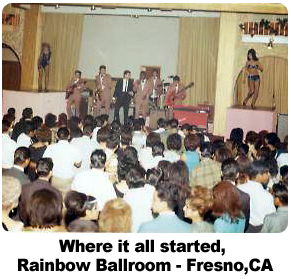 The First Ray Camacho Band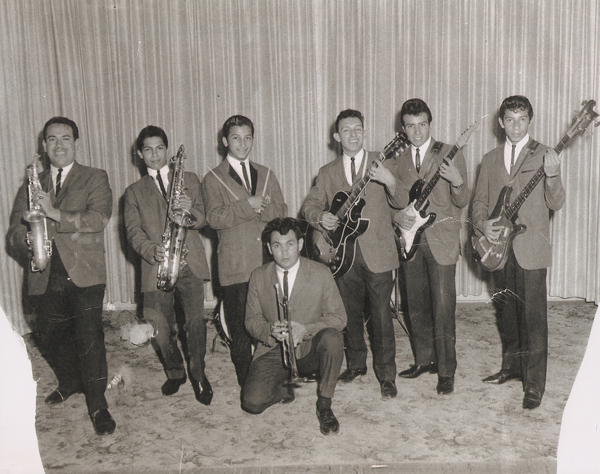 *Eight Department of Defense USO Tours to 36 countries* Performed under combat conditions three tours in Vietnam, during war time * Played at two Leper Colonies, one in Panama and one in Korea * Performed at 22 prisons in U.S. * Recorded 58 LPs/CDs and 75 singles with three gold records * Starred in television and played in the Mexican movie "Pelea de Perros" * Performed for 1989 Presidential Inaguration of George Bush Sr., in Washington D.C., * Over 1 million people have attended the band's performances * Inducted into the Hispanic Music Hall of Fame
The Band heard around the world
Architects of the Band
Manuel Palafox - Manuel was very important to the band as an arranger, musician and composer.

Manuel not only played saxophone and keyboards extremely well,he also sang some lead vocals and vocal parts. Manuel taught the musicians in the band, the different vocal and instrumental parts since he composed and arranged the songs. Manuel was the pride of El Paso,Texas and Cd. Juarez, Chih.
Mingo Cervantes - A highly skilled guitar player that compared to anyone in the country. He was able

to play any style of music and play it well. His vocals were great in English or Spanish. Mingo was Ray's right hand man, helping out with the band business and band discipline. Mingo was a very big part of the success of the band. Mingo is the pride of Bakersfield.
Enrique Mendoza - A tremendous congero, vocalist, translator of songs from English to Spanish, and also

a composer. Overall, a real gentlemen and a great musician. Hank had the privilege of playing for the great Perez Prado while Hank lived in Los Angeles, Ca. There are not too many congeros that are better than Hank, anywhere!
These 3 musicians were a big part of the band that played real music for 40 years!
________________________________________________
Most of these musicians took part in the overseas tours to 36 countries and participated in the 58 LPs/CDs and the 75 singles that the band recorded.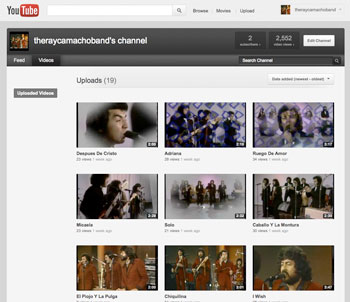 Available Albums for downloads
Musicians of the Band over the years
Manuel Palafox
Mingo Cervantes
Enrique Mendoza
Jesse Luna
Daniel Cervantes
Jose Bueno
Jose Chavez
Jacinto Cancino
Henry Rangel
Victor Bejarano
Danny Bejarano
Julian Molina
Agustine Galaviz
Fred Flores
Ray Ortiz
Joe Ruiz
Boni Valadez
David Duran
Pete Rodriguez
Tom Gonzales
Linda Avila
Reggie Rodriguez
Bob Lopez
Mike Hernandez
Pat and Lollie Vasquez
Eddy Gaona

________________________________________________
The Ray Camacho Band wants to acknowledge the contributions that four young ladies made to the band. The hardships of extensive travel can be extremely demanding for anyone, but these young ladies were always ready. They never gave up and always performed and looked great at all times. We were lucky to have these young ladies be part of the band, especially on the eight overseas tours, where the travel and schedules are very hard. These young ladies were always well received because of their talent and beauty. They were a great morale booster for the American troops and the bands fans! They are;
Singers and Dancers
Dolores Mejia—Phoenix, Az.
Maggie Hugez—Phoenix, Az.
Rosemary Renteria—San Diego, Ca.
Linda Avila----Fresno, Ca.